Benefits of having Mallard bartend your party:
Selecting a quality bartender to manage your wedding reception or event is as equally important as the food service and decorations. Hiring quality bartending for your private event will allow you and your guests to spend your party hours socializing instead of catering to every empty glass.
Our credentials include endorsements from the event managers at popular locations including the Pioneer Park Pavilion and Station House 726 in Puyallup. Foss Waterway Seaport Museum, Point Defiance Pagoda, and Titlow Lodge in Tacoma. Rein Fire Ranch in Issaaquah, plus many, many more. (Full listing)
Many catering companies say they offer bartending service, then assign a food service person to the task. Maybe you get someone behind the bar who's a gem. Maybe not. You won't know until it's too late. Why take the risk? (Read more)

What We Do:
We are licensed, certified, experienced bartenders well versed in more than 300 different cocktail recipes. One bartender can efficiently, single-handedly, serve crowds of up to 100 guests and we staff equally skilled bartenders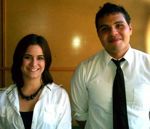 to meet the needs of larger parties. For your upcoming party, reception or event, we will create original, tasty cocktails, generate a positive, safe, atmosphere to keep the party flowing and clean up the bar service area afterward. We have a jockey box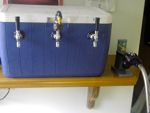 and other specialized tools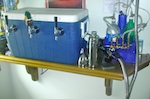 to cater any situation. All unique and special requests will be accommodated.
Visit our bartenders referrals page for reviews from past clients.
What to Expect:
I will coordinate with you beforehand regarding the types and amounts of alcohol you will need to make certain all your guests are accommodated yet avoid over-purchasing of liquor and other unneeded expenses. We will also discuss possible drink ideas that may enhance the theme or flavor of your event. I can offer up options for themes if you're looking for some signature cocktail ideas for your party. We will cover all items in detail to make certain nothing gets overlooked in planning your gathering. We do not supply or resell liquor but can work with you in a cash bar setting.
Whether your event is wedding reception formal, deck party casual, birthday party wild, costume mandatory or fundraising event, we are prepared with all of the necessary skills and tools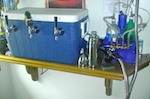 for each unique occasion. (See: Bartender Photos for pictures from past events)

What it Costs:
We serve the greater Tacoma/ Gig Harbor/ Pierce, Thurston & King County areas.
Our rate is $25.00 per hour + tips. 5-hour minimum.
Travel fee may apply.
Any pre-party coordinating is complimentary.
(Special notes regarding liquor liability)

Get Your Banquet Permit Here:
Contact me:
Visit our bartending calendar for scheduling information. You may also email me at mallard@tacomabartender.com, or telephone at (253) 752-4004.